Computer Setup for V-School
Download the native Slack app
Don't just use the web app. The native app handles notifications much better than the web app.
Download a text editor
We recommend starting with Atom.
Install git and other command line tools
Open terminal.

Type in xcode-select --install and hit enter. This will install git along with the Xcode command line tools.

Later in the course, students will download the actual XCode package because it has FileMerge, an excellent Git diffing tool. But since that won't be a problem until group project time, this will be much faster for now.
Sign up for Github account and add an SSH key
Sign up for an account on Github

Create an SSH key on your machine (if you haven't before)

Check to see if you already have an SSH key. Run cat ~/.ssh/id_rsa.pub. If it prints out a long string of characters, skip to the next step. Otherwise, continue here.
In terminal, run ssh-keygen -t rsa -C your_github_email@here.com (Making sure to replace your_github_email@here.com with the actual email you use on Github).
Hit enter 3 times until it prints out a little "randomart image"
Run cat ~/.ssh/id_rsa.pub to print out your new ssh key. Copy the whole key (starting with "ssh-rsa" to the end of everything that printed out).

Open your Github settings > SSH & GPG Keys > Add New SSH Key. See the animated gif below.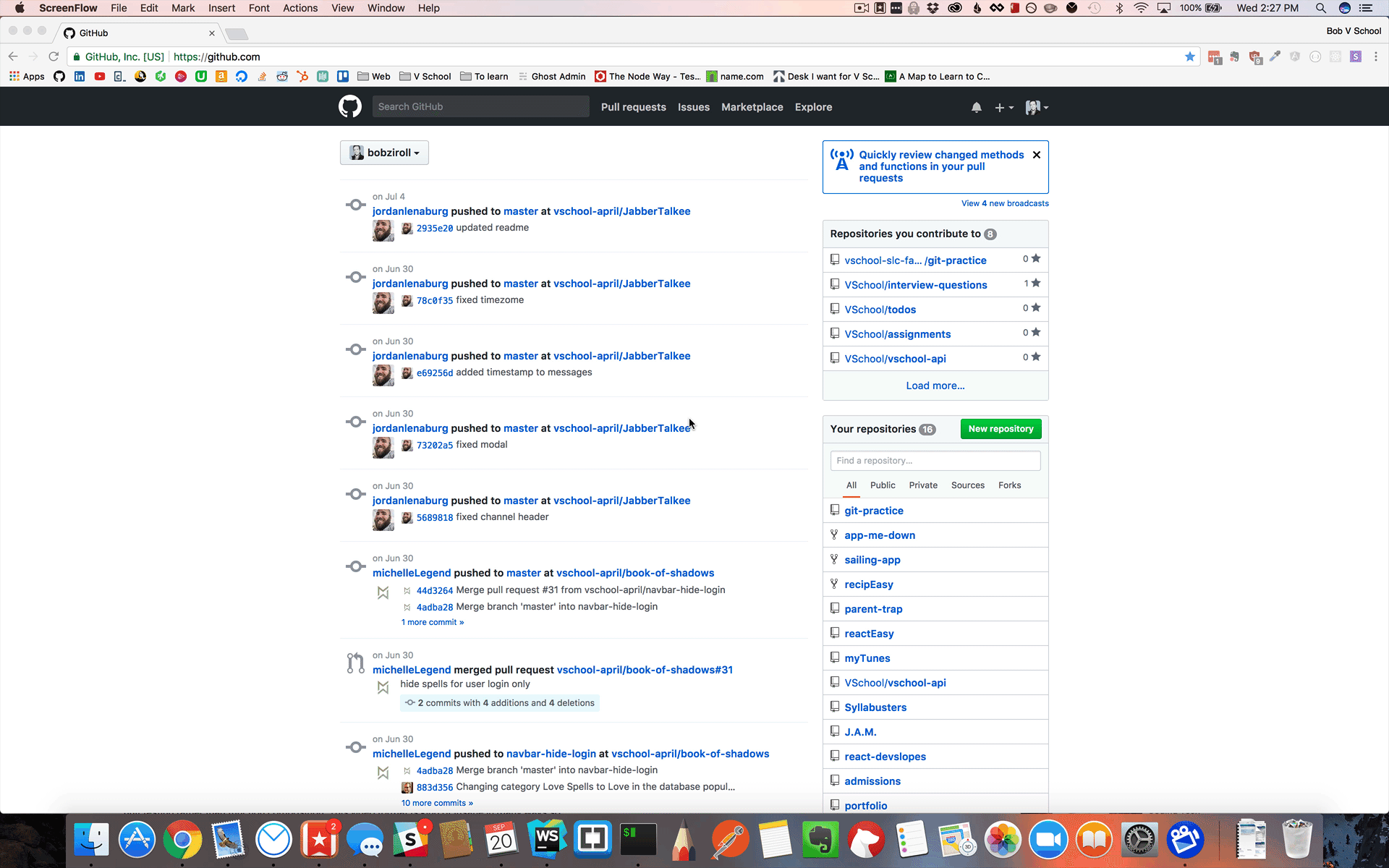 Install Homebrew, NVM, and Node.js
Sign up for LastPass (if you don't already have a password manager)
Head to the LastPass home page, sign up, and follow the instructions.
Make sure to install the browser extensions and allow it to save your passwords every time to sign in to an account

We spend far too long waiting for students to remember passwords to their sites. Plus this is a lot more secure and allows you to choose different passwords for every account you have. (Letting LastPass choose the password for you is even better!)
Download a note-taking app
Modify your terminal prompt to be awesome
Sign up for Codefights and NodingBat accounts
NodingBat is a site for practicing coding challenges. The website's editor is abysmal, but the problems are perfect for total beginners.

We recommend copying the problem into a file on your own computer, writing a solution, then copying it back to nodingbat.com's editor to see if it runs the tests.
If nothing happens when you run the code, open your dev tools console to see if it threw any errors. Any syntax errors with your code will show up in that console rather than on the website itself.

Codefights is an excellent site for practicing your coding challenges. Start with the Arcade intro levels and work your way up.
Sign up for a Trello Account
---
For instructors - set up the Trello assignments system for this cohort
Create a new Trello organization specific to this cohort. Something like "V School SLC September" for a cohort starting in September.
Share the URL to join the group to the students' slack channel. Make sure everyone joins.
Copy the "_'s Assignments" board from the V School org to the new organization
Have each student copy that board and put their name as the board title.
Have each student add all the instructors to their board
Find the shortname of the new organization: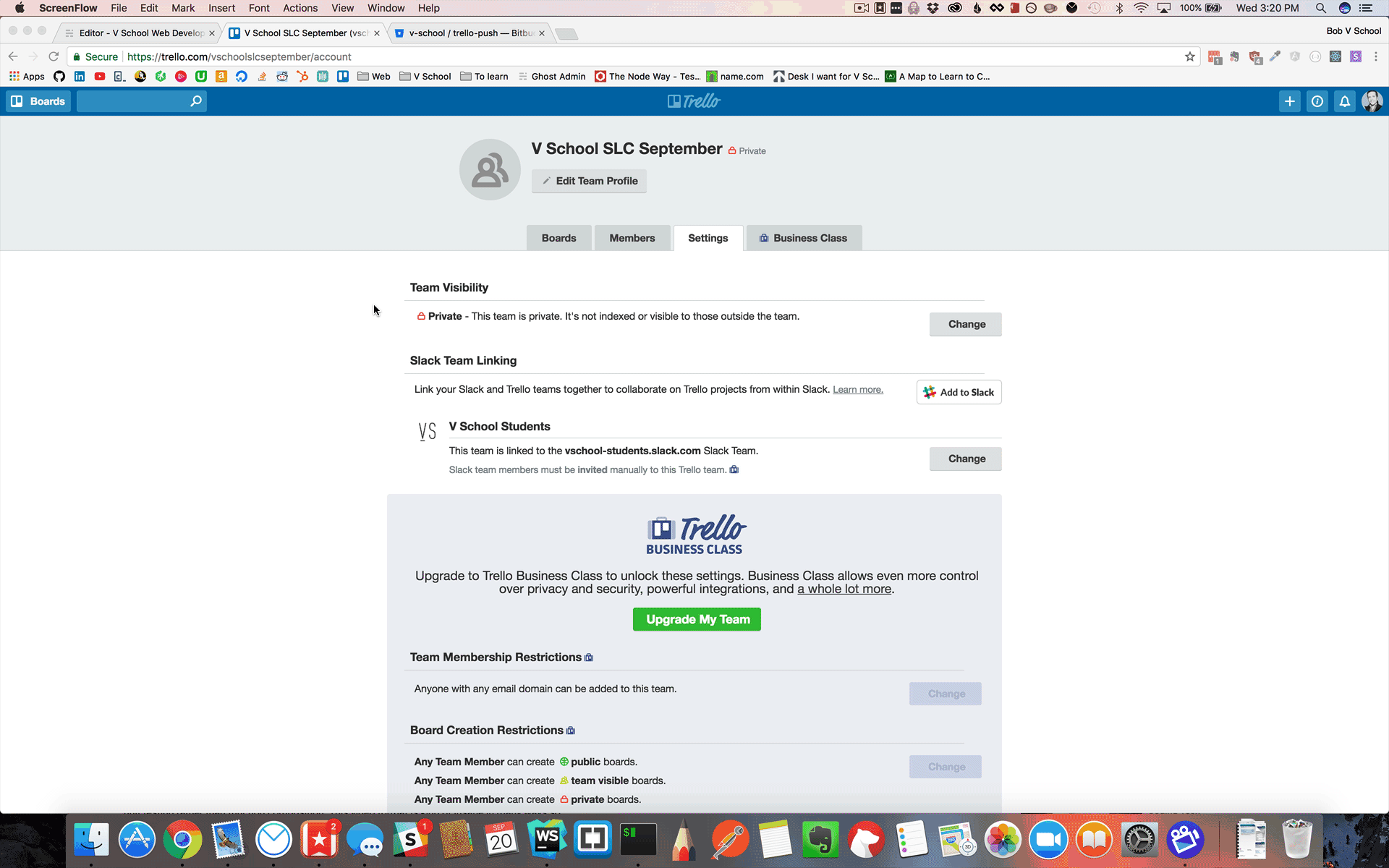 Modify the main.js file in the code of the Trello Push tool (found here) to have the organization's shortname:

Students can modify their assignments boards all they want, except for the name of the first list. That one MUST remain "Assigned (Don't Change)".
When ready, launch the index.html of the Trello Push project, authenticate with Trello, and search for the assignment you wish to push. Click on 1-3 assignments you want to assign and click "Assign [n] card(s)" to create new cards on every board in this organization.