With 500 million users and counting, LinkedIn.com is all about networking and keeping in touch with business contacts. Recruiters practically live on the platform searching for their next candidates.
As one of the first platforms to which business professionals turn when making connections, it also avoids the personal life slant of Facebook by focusing on work experience vs the last place you ate.
I recommend using LinkedIn not only for staying in touch after a meetup, but also for finding people to network with to begin with. You can read more about finding and contacting people who work at different companies in my post: Emailing Your Resume to Real People
In addition to connecting with people in general, your LinkedIn profile is often the first place people go to learn more about you, especially after you apply for a job. For this reason, I recommend using all the tools possible to portray the most accurate and best picture of your career history possible. Read on for a deeper look into all of LinkedIn's features, what they're for and how to use them to build out your profile.
Vanity URL

The goal behind a vanity URL is to make it as easy as possible for someone to find your profile page by sending them straight their with a link that's easy to remember.
For example mine is: https://www.linkedin.com/in/sariahmasterson/
vs: https://www.linkedin.com/in/4920fjwekn5/fSNR??HKe2132
This feature is most useful for people with common names like "John Smith", because when search results display 65,366 people with the same name it becomes pretty tricky to find the right "John Smith".
You can create a vanity URL for your profile doing the following: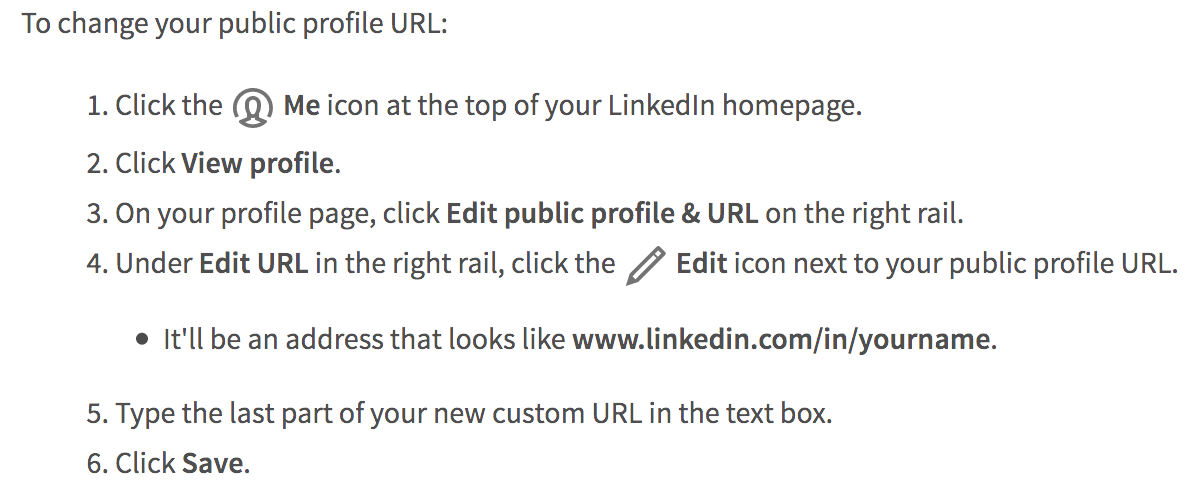 Choosing a Good Profile Picture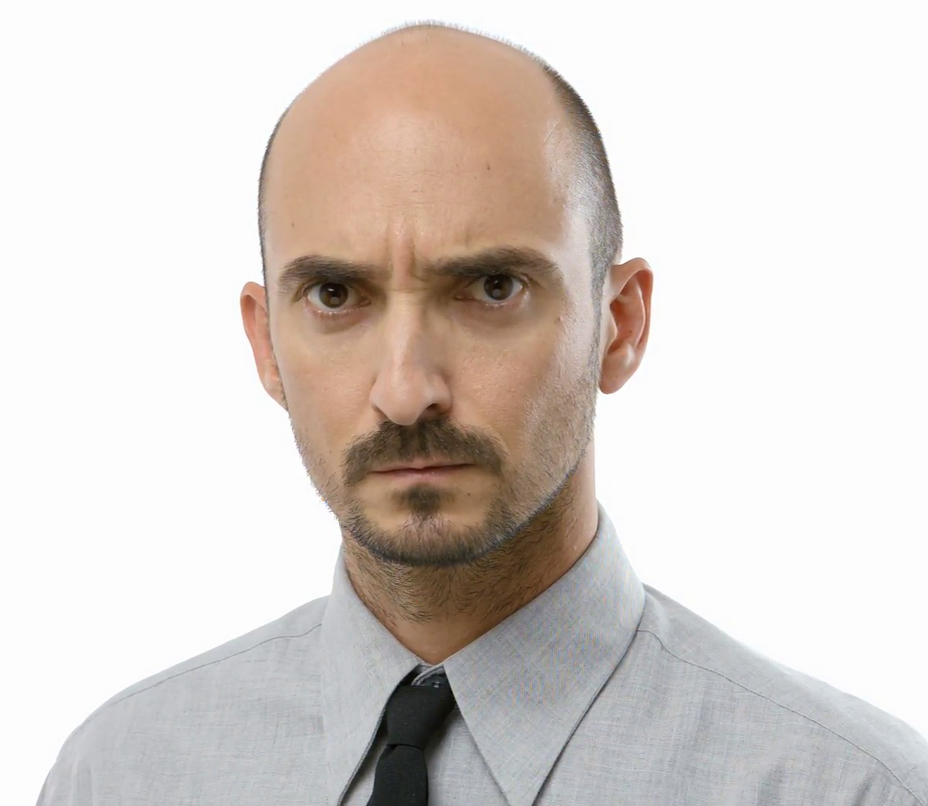 Profile pictures are a great way to help people recognize you when responding to a request but they don't work very well when it's hard to see your face. A good profile picture should be staged so that your face takes up at least 60% of the frame and includes an approachable looking expression on your face. In the photo above the man is dressed nice and looks well-kept, but how does his expression make you feel?
Now take a look at this person: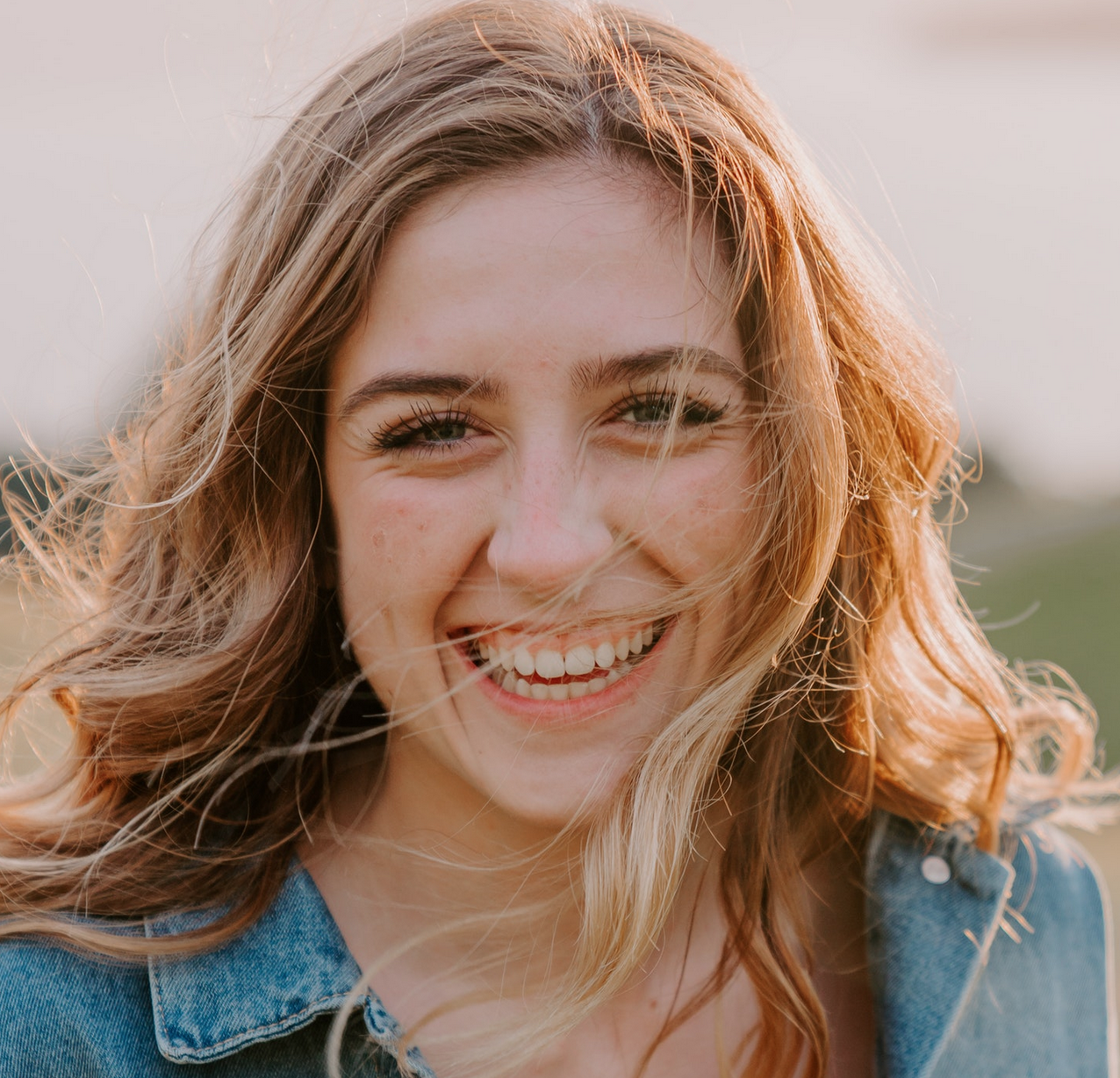 How do you feel? Who are you most looking forward to meeting?
I'd also recommend that the photo look like you on a regular basis. For example last year I had long hair and wore contacts most of the time, while this year, I've cut my hair short and have gone back to wearing my glasses. Imagine what it'd be like trying to meet up with someone with short hair and glasses, with only a picture of them with long hair and no glasses?
What makes this a useless profile picture?: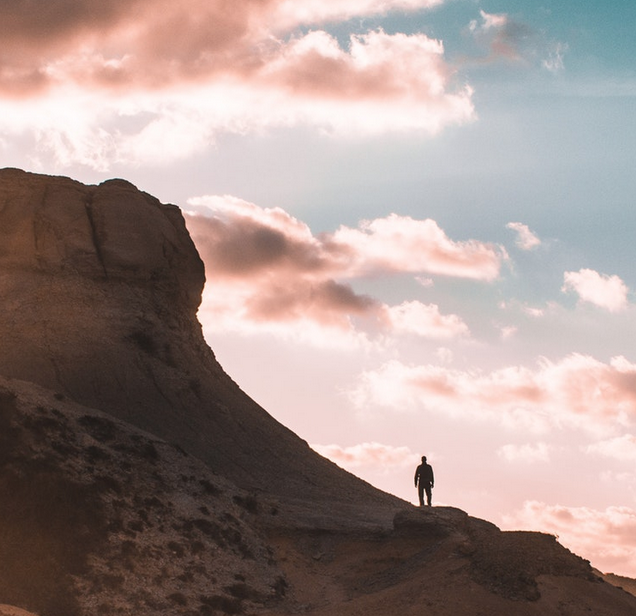 Update your profile picture using the following instructions: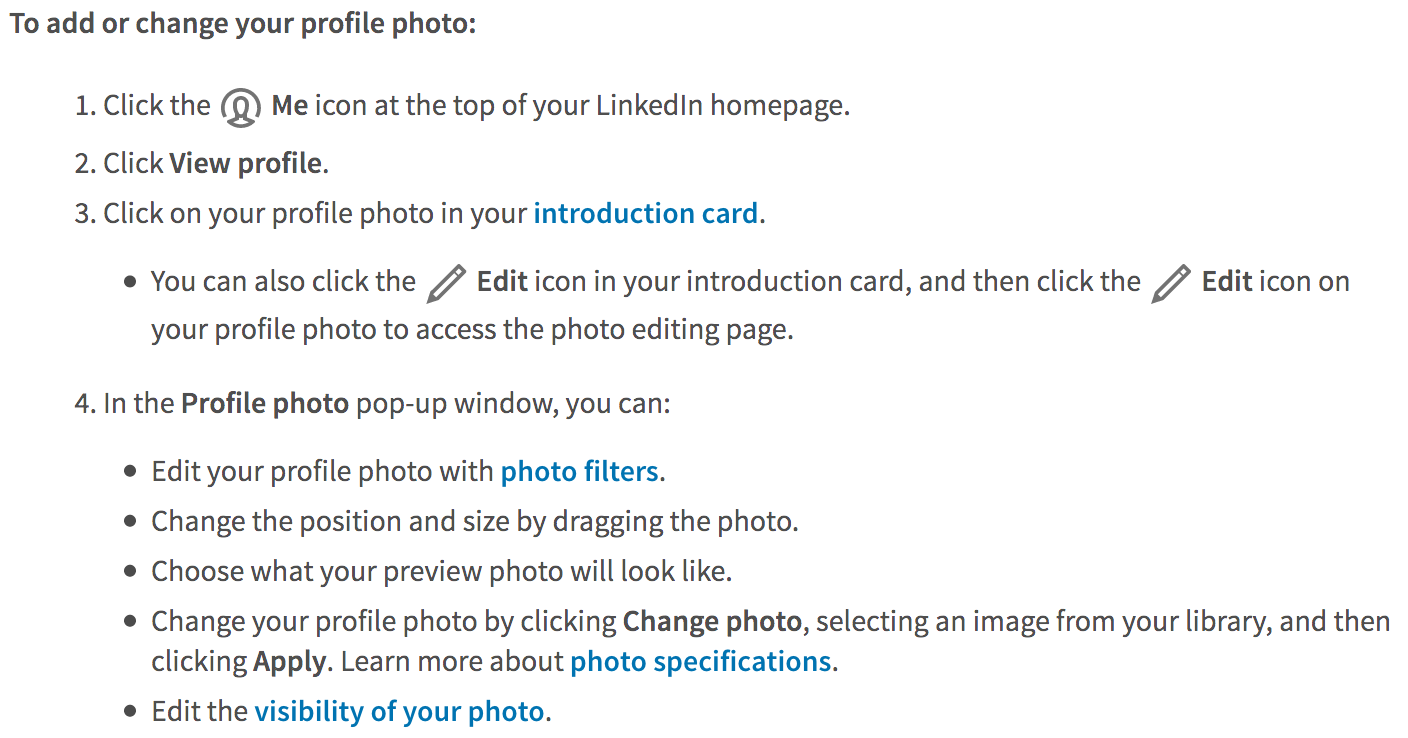 Change Your Headline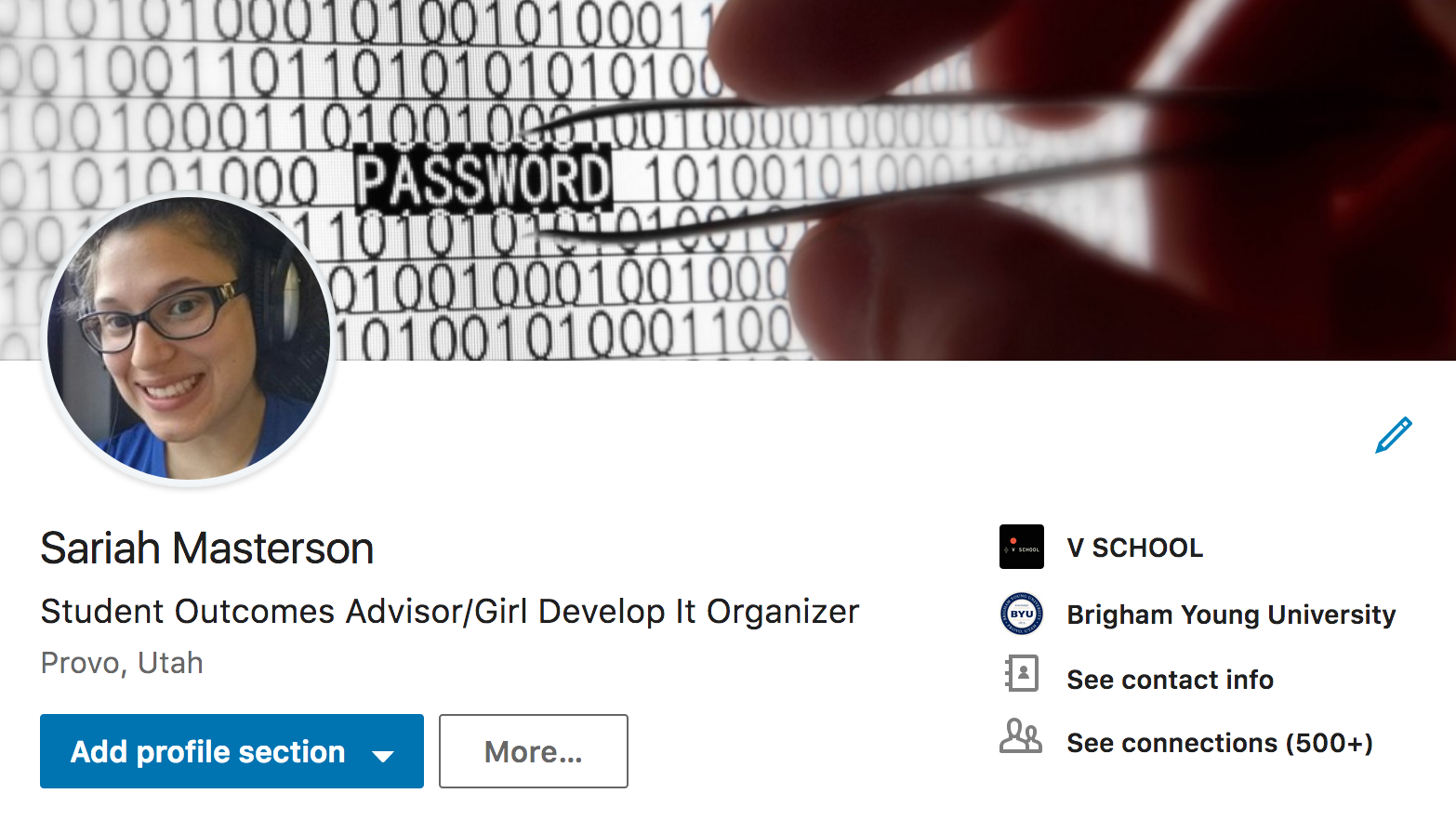 The LinkedIn headline is just the wording that shows up below your name. It's often where people will list their job title, and in your case, I recommend it say, "Web Developer" because: "You're a Web Developer Harry!" -- own it. Studies have also shown that people would rather hire someone who's employed than someone who
isn't and this helps to give that illusion.
Studies have also shown that people would rather not hire an unemployed person, so don't include, "Seeking new opportunities" in your headline - it makes it sound like you
aren't employed and is a great way to lose an opportunity.
Learn how to change your headline below: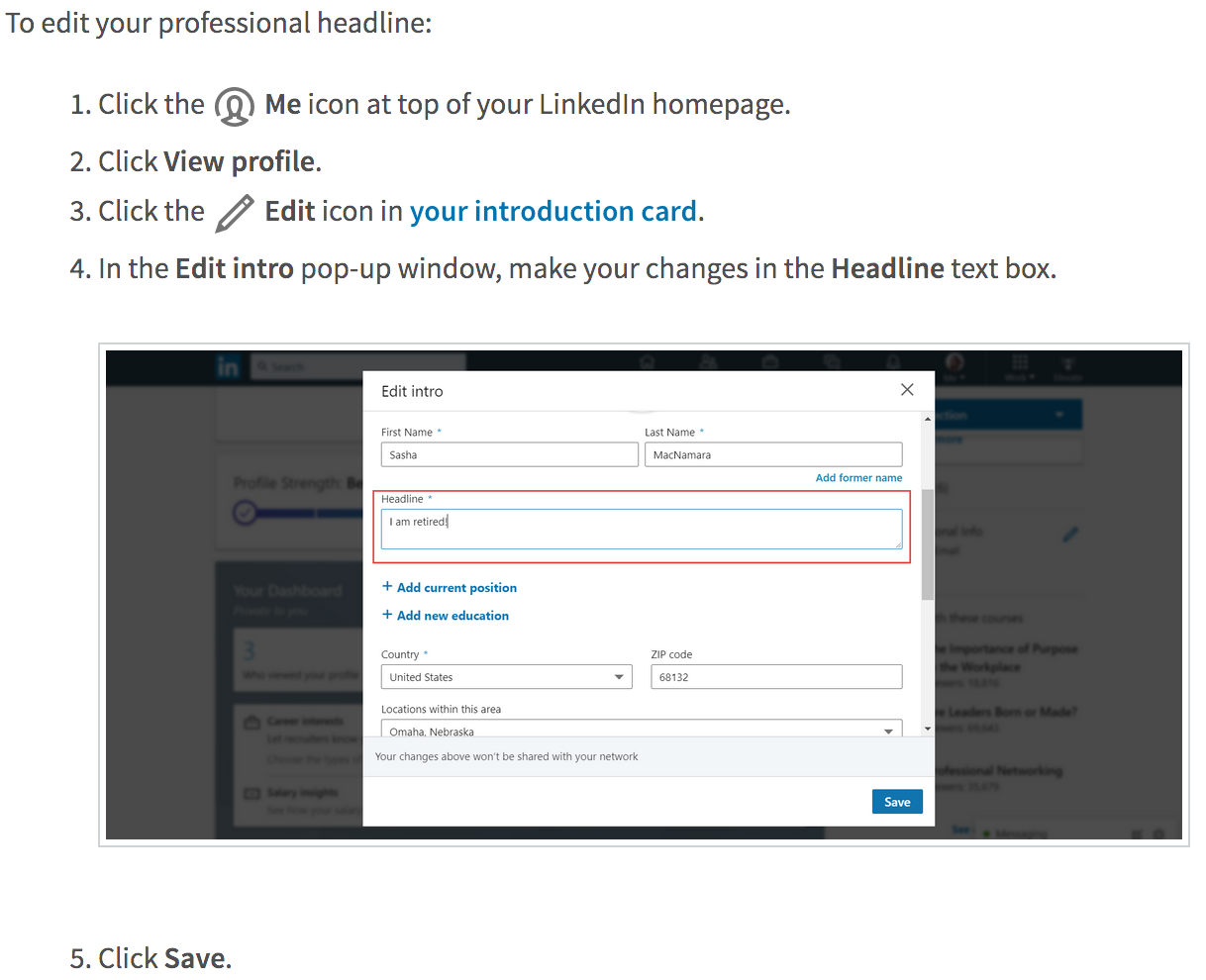 The Profile Summary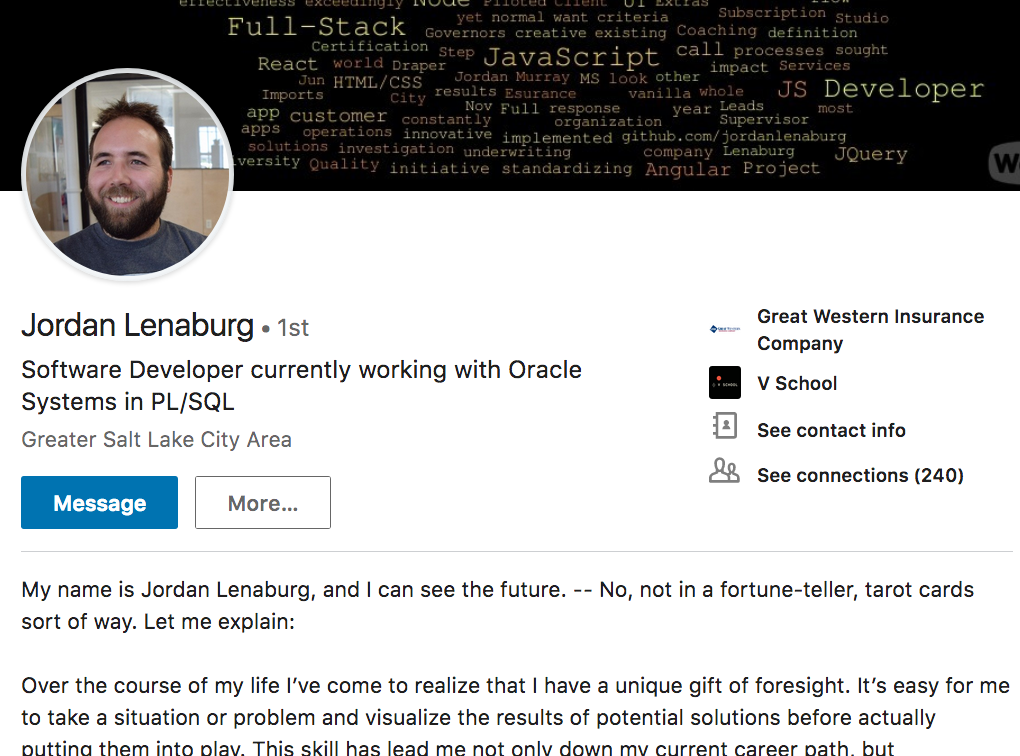 Below your Headline is a place to include a Profile Summary. The Profile Summary usually sums up a person's: Professional History, Qualifications, and Personality. It can also give viewers a clear idea of what they should do next: Accept your connection request? Recruit you for a related job opening? Reach out for networking purposes? etc.
Your summary can be anywhere from a couple lines to a few paragraphs. While many casual contacts won't read much of your personal summary, it's an excellent place to dive deeper into what makes you a great person, passionate about your job, etc. for the companies you've applied with to read, because they will read it.
Many people find prompts and examples to be helpful when writing a summary. Check out a few templates here.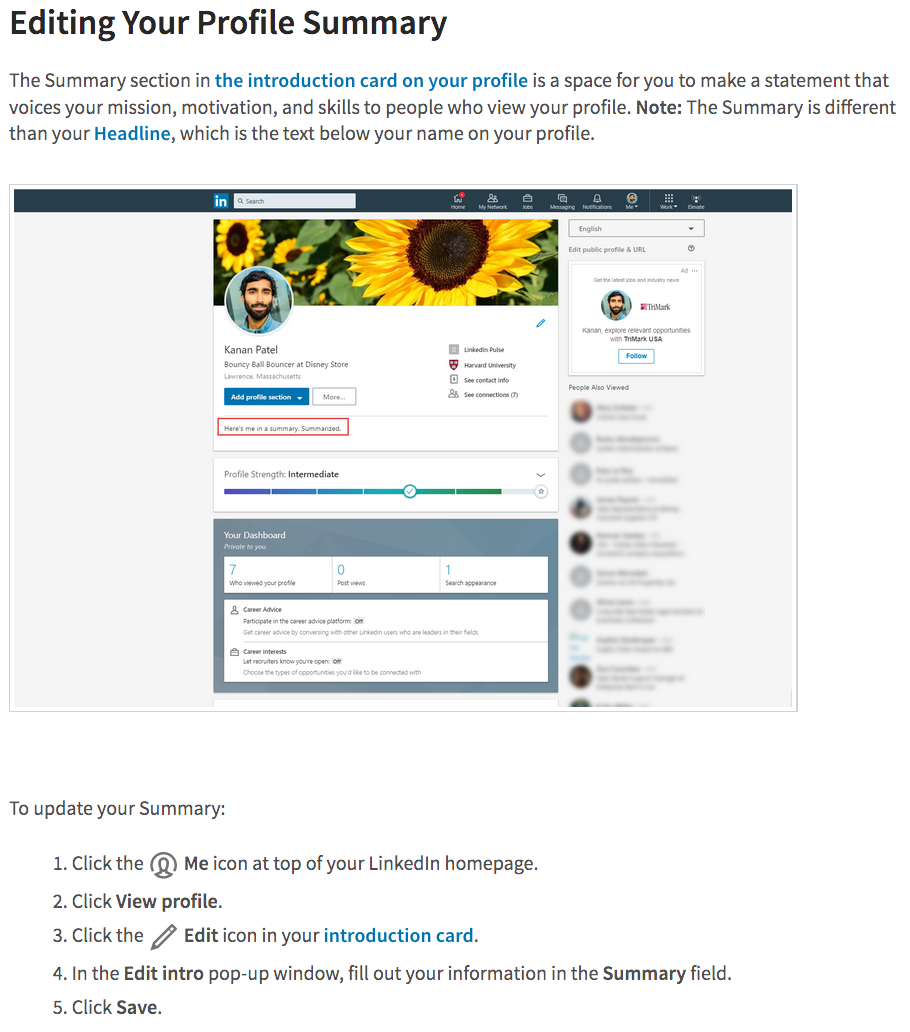 Employment, Education, Volunteer Experience + Accomplishments
Employment Experience is what makes LinkedIn basically a digital copy of your resume. A cool thing about LinkedIn though is that the viewer is usually on your profile because they want to learn more about you, vs just trying to skim through a stack of paper resumes.
With an interested audience, all the more reason to go into more detail where applicable. This could be including samples of your work like coding projects, certifications, publications, awards, etc. LinkedIn's Accomplishments feature is meant to help these types of additions stand out and even gives you the option to include any other team members who worked with you.
When it comes to adding a new section to your profile, simply click the blue button "Add Profile Section" under your Headline and fill out the text form. You can also make other edits to your employment experience like rearranging and deleting. Learn more about that here.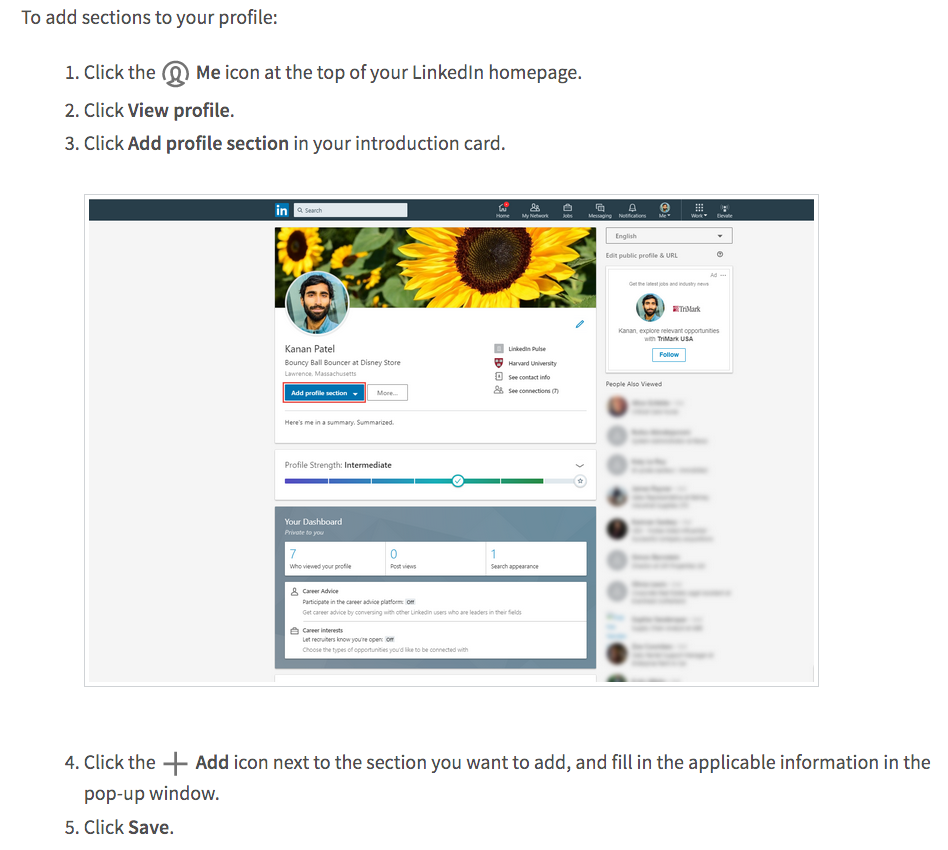 Don't Forget Skills + Endorsements!
The Skills and Endorsements feature is a great place to list all of your new tech skills, which in turn, help recruiters to find your profile when they search those terms. Another unique feature is the ability to "Endorse" someone by clicking the plus sign next to a skill. This is basically you vouching for that person's claim that they for example, know JavaScript.
If a person with a lot of experience in the same skill endorses you, it will also include the fact that that person is very skilled in the same thing, in turn giving more credibility to their endorsement. Cool huh? You can help your friends out by endorsing what they know on their profiles and vice versa.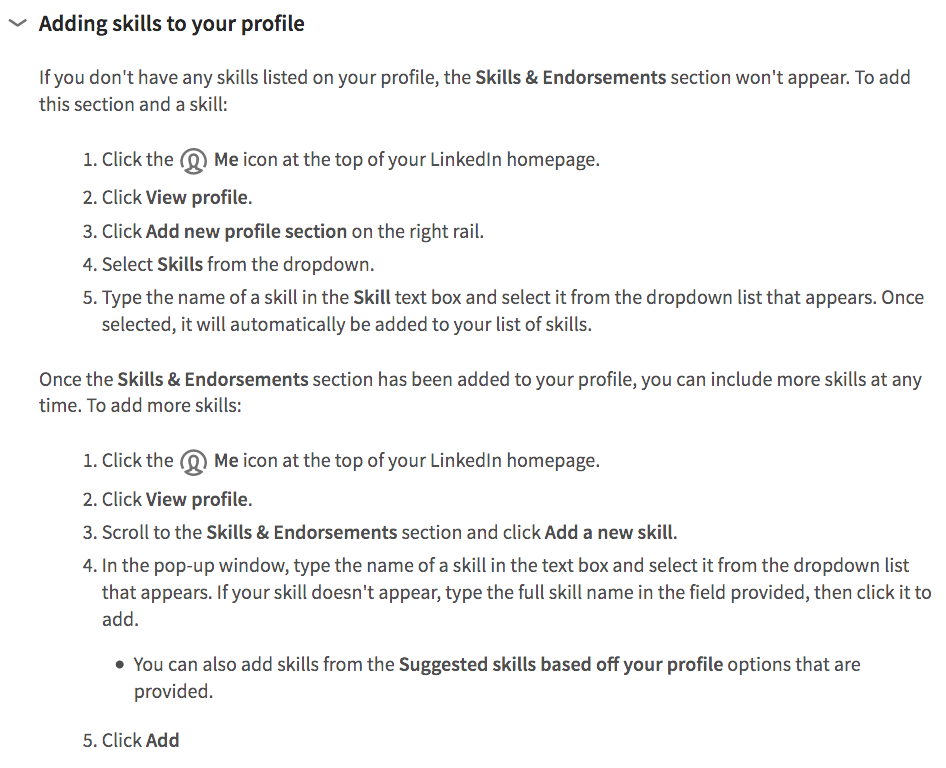 You can also reorder your skills so that your coding skills are listed first.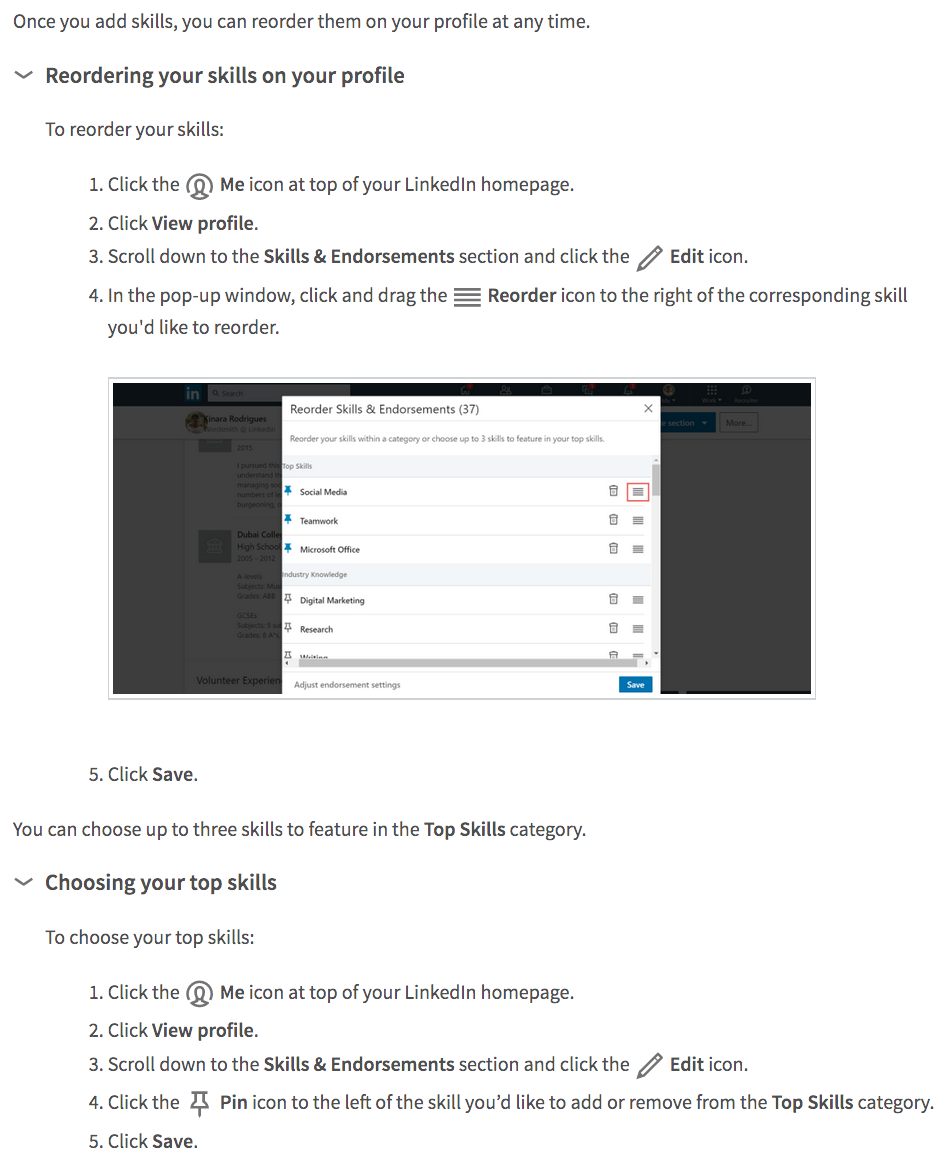 Request Recommendations

The ability to recommend someone and be recommended, helps to recognize people for their great work and to build a more credible profile. Including brief anecdotes about personal interactions are great too and it's even a good idea to write out a few bullet points of past experiences with a person that demonstrate your character when asking for a recommendation. If they agree, they'll be more likely to write one for you and will do it quickly as you've already given them something to write about.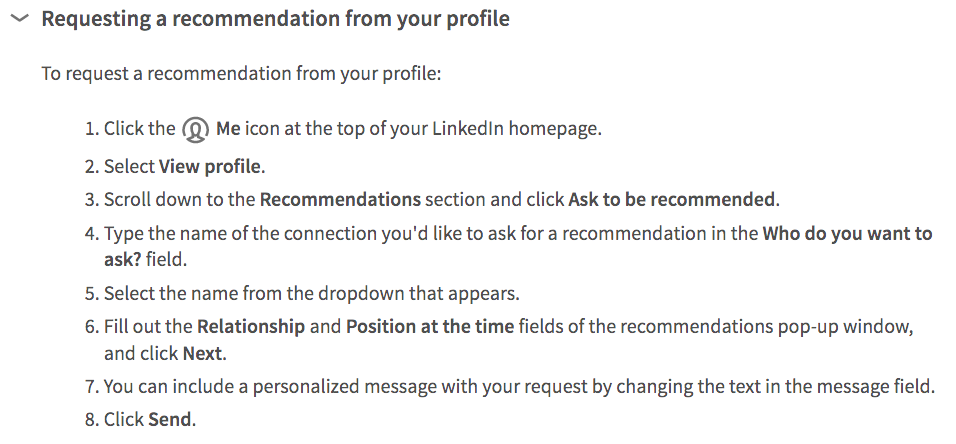 Swapping recommendations has unfortunately been over done and destroyed the credibility of such reciprocation. To protect yourself from this discredit, there is a feature to hide recommendations from people you've recommended yourself and vice versa.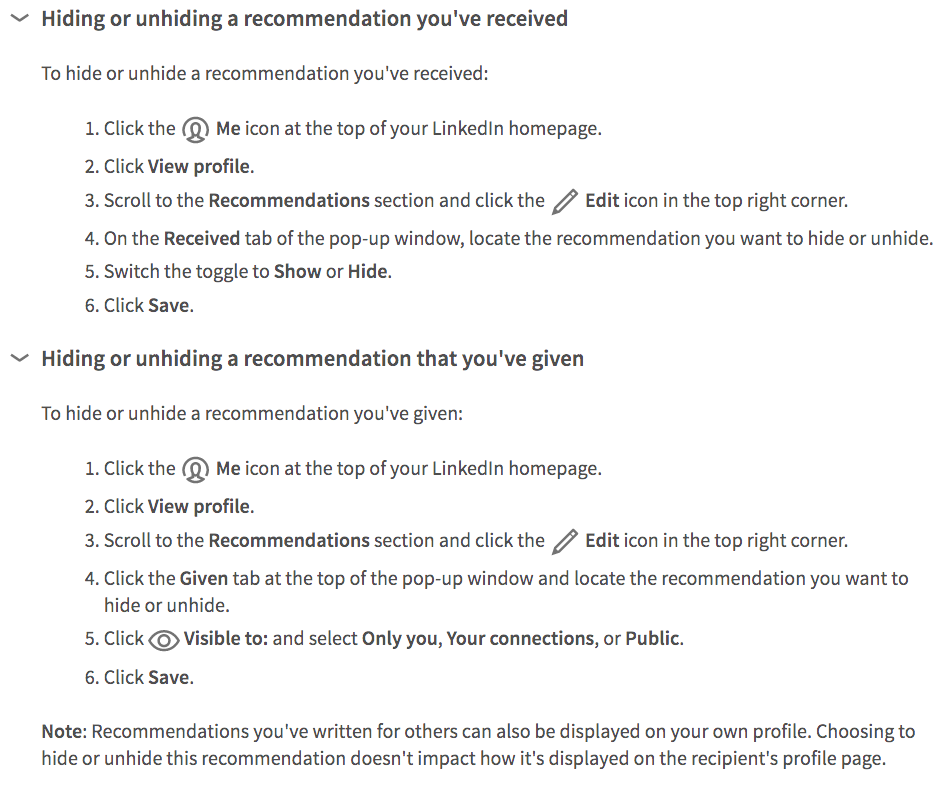 Start Connecting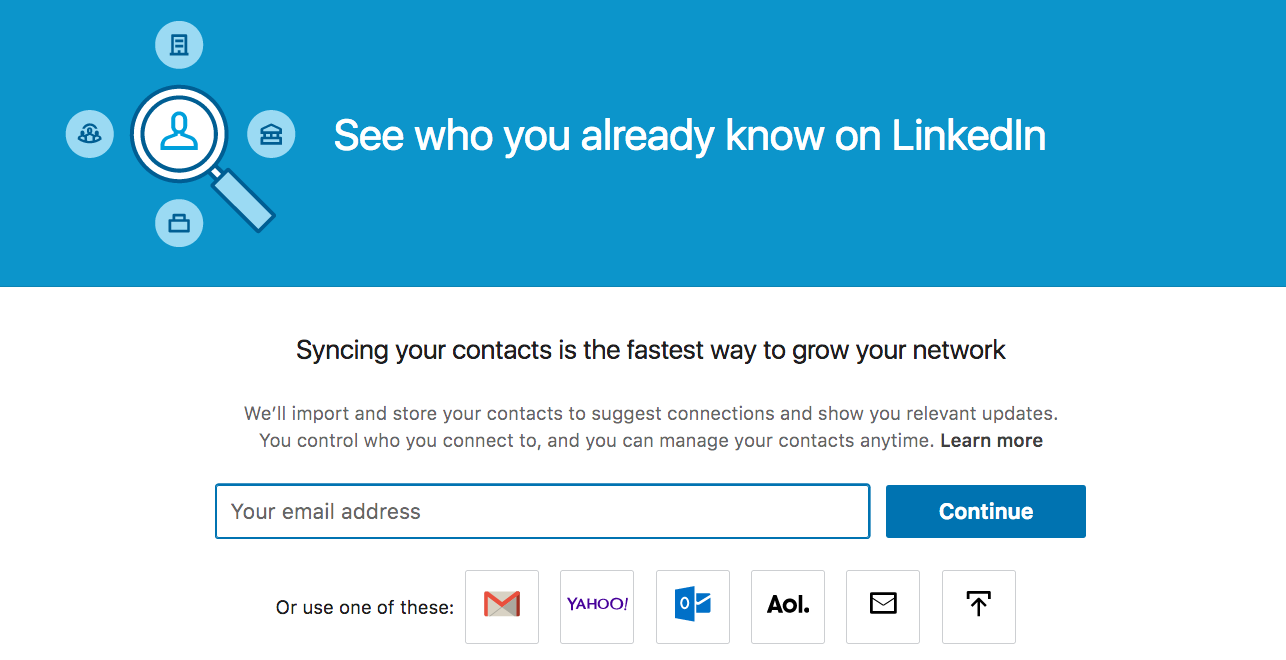 After creating your personal LinkedIn profile, the only thing left to do is to start connecting with people and building relationships. You can go about this by clicking the "Connect" button on someone's profile or sending a blanket email invitation to connect via your email contacts.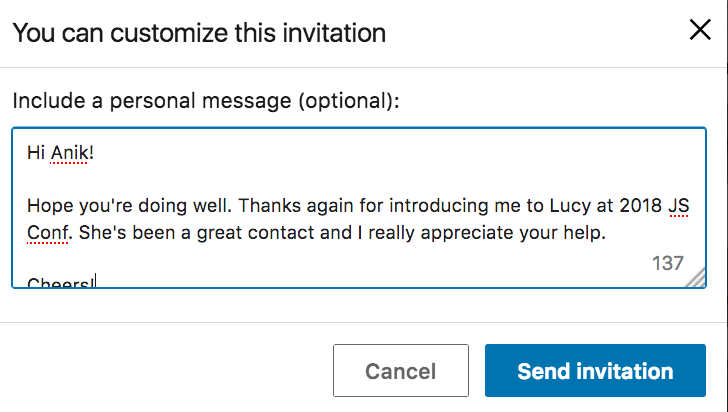 If you do go about connecting with someone by clicking the "Connect" button on their profile, I recommend including a brief message by clicking the "Add a Note" button. Describe why you'd like to connect or how you previously met. This will increase your chances of the person accepting your request.
Another tool for finding people to connect with is the People You May Know page. Much like Facebook, this tool shows you a list of people who are connected with people you are connected with that you might know too.
Some people only connect with people they've met before, while others use LinkedIn for specifically meeting people and building a virtual network. Ultimately the best way to do it depends on your personal goals and how connected you'd like to be on the internet.
Introductions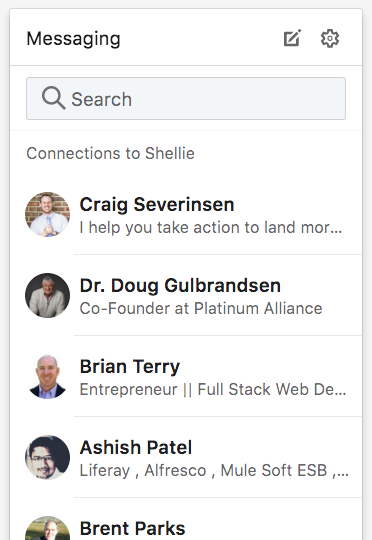 Last but not least is one of my favorite features, the option to request an introduction to someone. A great way to increase your chances of your connection request being accepted is having a personal contact of that person introduce you. You can find out which of your contacts are connected with the person in question by going to their profile page and clicking on the "Messaging" tab at the bottom right of the screen. At the top of this window will be a list of people you know, who are already connected.
Next, simply click on one of your contacts and send them a message asking to be introduced. It's always great to have a reason why and to give a little back story. Hopefully, if they feel comfortable, they'll next start a message thread between the three of you and get a conversation going.