Networking is pretty much everyone's least favorite pastime, at least according to most people I've talked with -- including extroverts.
I think it's because, in general it's exhausting.
You prepare yourself to go to an event or place where you don't know anyone, with the overall goal of meeting someone amazing who will solve your current problem or in our case, direct you to your new job. Then you proceed to muster up enough energy to ask the same questions over and over until you find that person. I've come to learn though, that following this pattern, is going about things all the wrong way.
The true goal of networking is building your network of friends and contacts and finding people who you connect with and might be able to help. When you focus on networking from that perspective, it becomes a whole lot less stressful and actually pretty rewarding.
For example, several of my greatest mentors have come from me participating in my local tech community and just helping out where I could.
I had volunteered to organize a local meetup and one of my co-leads invited my future mentors to come teach a class.
We all met there, kept in touch, I helped them with some of their side projects and struck up a friendship.
Since then we've all supported each other in new job opportunities and even introduced each other to more beneficial contacts.
None of this would have happened if I hadn't decided to become an active member of my local tech community and took an interest in what my mentors were doing, offering my help.
You're probably thinking, "Nice story, but we can't all be leaders of meetups" - FALSE opportunities abound! You just have to take action and below are several resources you can use to do just that.
Remember to focus on finding activities and people who you connect with. Networking is about building friendships and how many friends do you have zero in common with? - I'm gonna say, zero.
Back in "the day" we used to call them user groups, and some still do (referring to people who "use" a language or framework), but with the advent of meetup.com user groups have become not only easier to find, but additionally moved to being "meetups".
Meetups are pretty much places where nerds go to be with other nerds and talk about nerdy things they have in common. Sometimes they just talk, sometimes they actually do things and most times they eat food. There are meetups on languages like JavaScript and Python, frameworks like React and Angular and even other tech related topics from 3D printing to Raspberry Pi.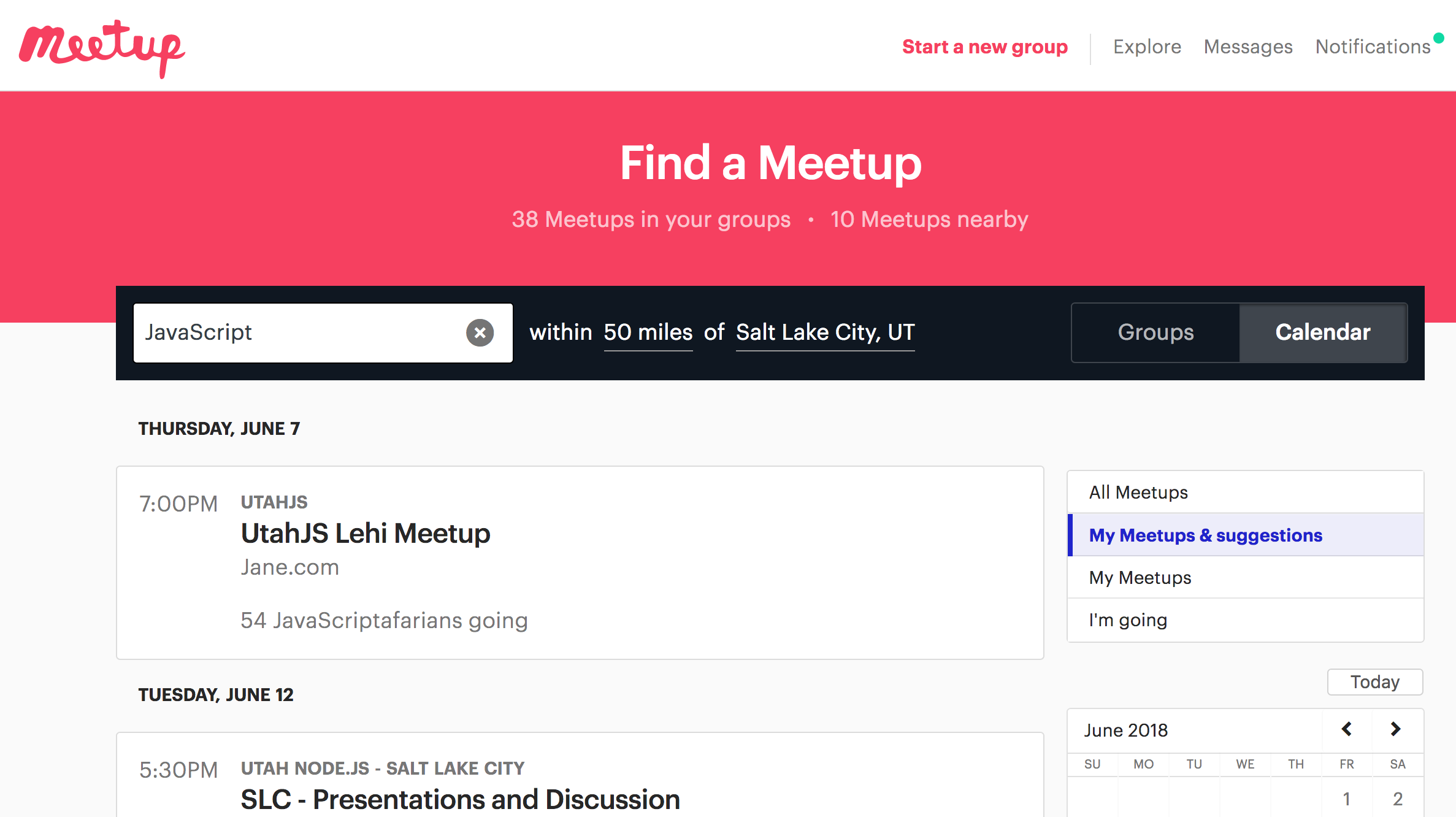 I've created a list of local tech meetups in Utah alone below. You can find meetups in your home state too by searching "javascript" "coding" etc. with your local zipcode. I'd recommend selecting meetups within at least 50 miles of your zip to ensure you pull up local big cities. 50 miles is about a 45 minute drive anyway - ok ok more like an hour, but it'll be worth it!
DATA
Big Data Utah
DOCUMENTATION
Write the Docs SLC
DRUPAL
Utah Drupal Users Group
GENERAL TOPICS
Freelance Developers Group
Silicone Slopes Developer Chapter
IOT, Blockchain, Internet
Google Developer Group Silicone Slopes
JAVASCRIPT + JS FRAMEWORKS
Angular JS Utah
LINUX
Provo Linux User Group
MAKERSPACES - CODE + HARDWARE
801 Labs
Hackster.io Hardware Meetup SLC
MOBILE DEVELOPMENT
Google Developer Group Salt Lake
Google Developer Group Silicone Slopes
.NET
Utah County .NET
OPEN SOURCE
Open Salt Lake
ORACLE
Salt Lake City Oracle Meetup
PYTHON
Python at the Point
RUBY
Utah Ruby Users Group Website
Utah Ruby Users Group Meetup Page
UI/UX
Designed4
Utah Inclusive Design and Digital Accessibility Meetup
WORDPRESS
Oozle Media WordPress Meetup
WOMEN IN TECH - dudes welcome ;)
New Meetups are popping up every day, so be sure to sign up at Meetup.com so you can get notifications. It's free.
Slack Teams
A lot of Meetups are also creating Slack Teams these days, which are a great way to connect with members outside of meetings, view job postings, and even get help on technical subjects and bugs.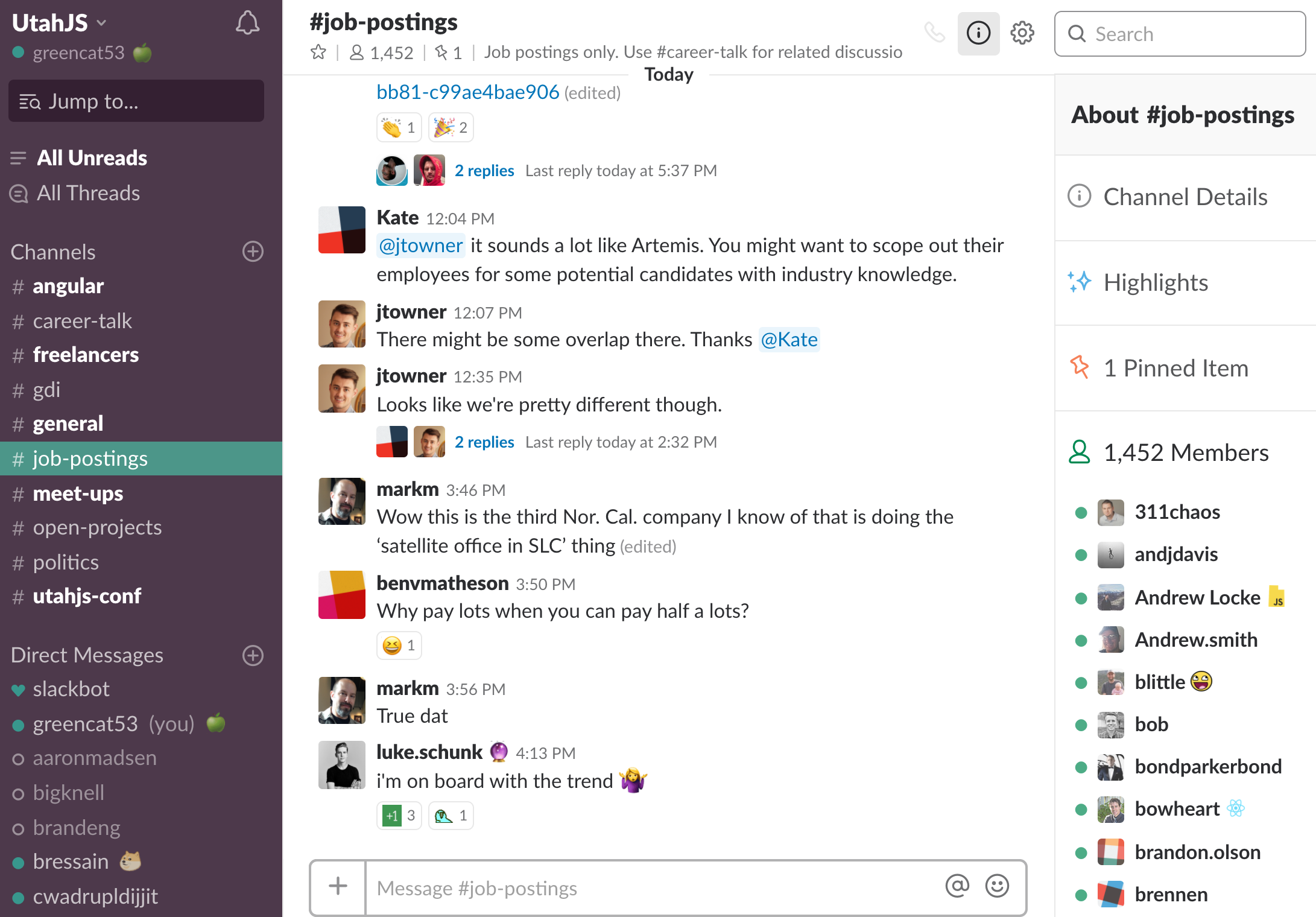 The best news is, pretty much anyone can join these slack teams by clicking through the following links and submitting your email for an invitation. Many Meetups are also including links to their slack teams in their Meetup.com descriptions too, so be sure to check there for more!
BSides SLC - Cybersecurity Group
Hackernest Slack Team - International hackathon organization
Silicon Slopes Developer Chapter - Utah Entrepreneurship group
Utah Junior Developers Slack Invite
Write the Docs Slack Team - International Documentation/Technical Writer ogranization
I've also found a few resources for general tech slack teams outside of Utah here:
46 Slack Groups for Developers
An Ultimate List of 230+ Slack communities
The Full List of 400 Slack Communities
Handpicked Top Slack Communities
Local Tech Slack Channels by Region
Tech Conferences
Tech Conferences happen all over the world on all kinds of topics from Def Con for hackers to Open Source Summit on: you guessed it, Open Source, and Utah has several of its own.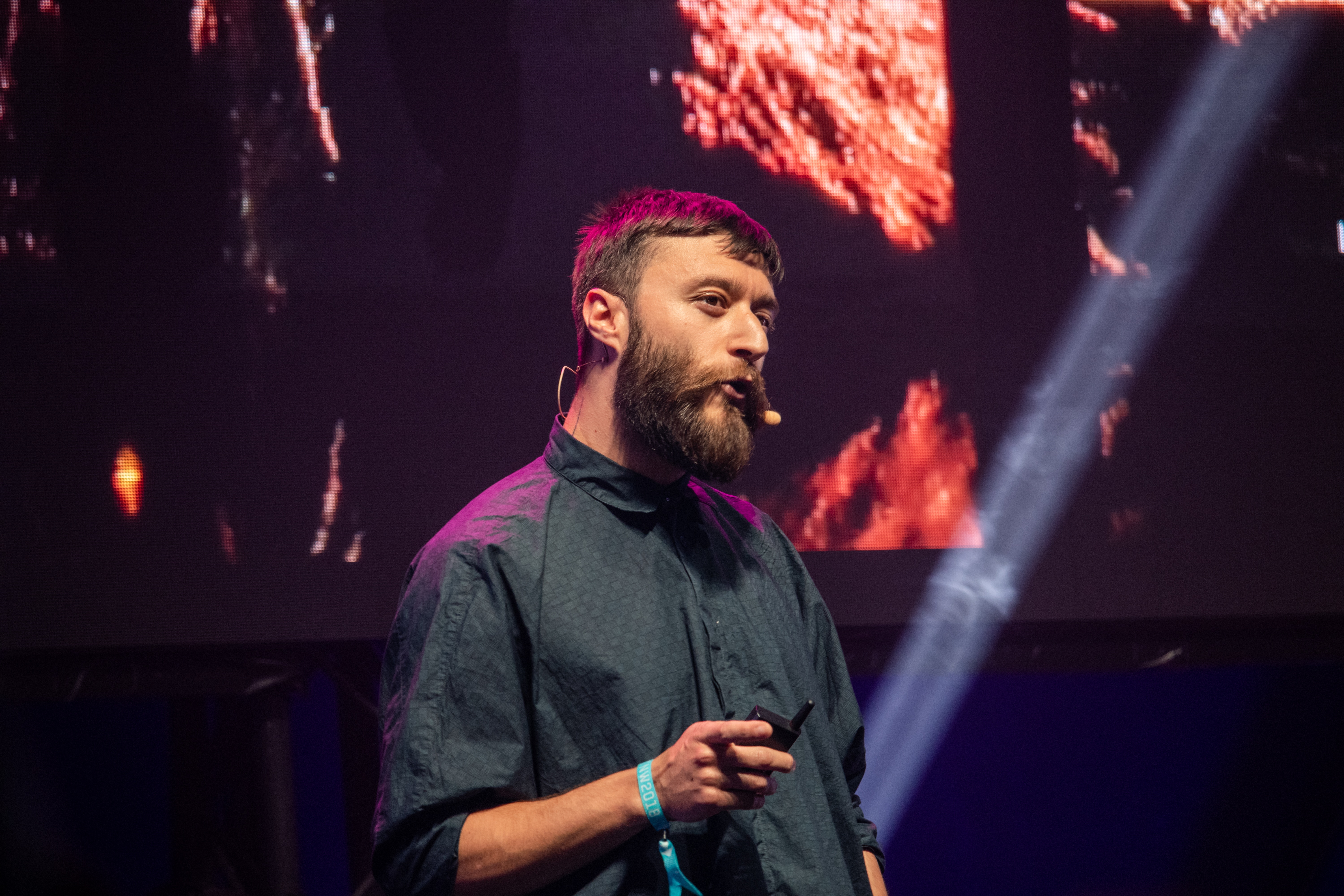 Conferences can last from a day to a whole week and consist of famous Key Note Speakers, Workshops, Lectures, Competitions, and plenty of time with Sponsors and Recruiters. Some conferences provide meals. Electronic badges that you can build during the conf are a staple too.
Why attend tech conferences? -- First off, they're freakin' awesome and second, they're a great place to meet people, network and learn new things. Be forewarned, a lot of topics will be over your head no matter how senior of a developer you are, but that's kind of the point -- learning and being exposed to new ideas and topics that are cutting edge.
Tickets can be pricey, so I recommend keeping your eye on conference websites for volunteer applications. Volunteering is pretty easy and can range from setting up classrooms and assisting speakers, to checking people in and running technical equipment. Whatever skills you have, there's a job for you AND you usually get into the rest of the conference for free! -- Which is pretty awesome considering conference prices can range from $50 to hundreds of dollars. They're worth it, mind you, but who wouldn't want to get in for free as a volunteer?
Tech Confs again, happen all around the world, so do a quick google search on your favorite topic if you don't see it in the Utah list below:
Big Mountain Data
Google Developer Group SLC: DevFest
You can also look up tech conferences all around the world at Confs.tech