Job searching can be really overwhelming and it's completely normal to want to hide in a hole and pretend it's not happening. One method that can really help with the stress and anxiety, is breaking the process down into smaller assignments.
Whether you only have a few hours a day or the full 24/7 package, any amount of time you can set aside for your search will help you reach your goal of employment one step at a time.
Think: "baby steps":
Like Dr. Leo Marvin says, "baby steps" is about setting small, achievable goals to accomplish a greater task. Don't think about job searching in terms of getting a new job, but rather based on the smaller goals it will take to get there -- updating a resume, making a list of jobs to apply for, attending a meetup tomorrow, etc.
I've created the chart below to help you identify some key topics to remember when setting these small achievable goals towards getting your first job as a developer:

Getting Organized
Before you start applying to any jobs, be sure to dedicate a week to getting organized by gathering and completing the following list of Documents needed for your job search. A poorly written resume is a great way to earn a rejection letter!:
Complete portfolio site
Deploy projects and add live links to portfolio Site
Update Resume
Update LinkedIn
Write cover letter template
Work Preference Survey
After getting all your job search tools together, let's figure out your ideal work situations by completing the checklist below. This will give you an idea of how to set your parameters when you begin your job search:
What kind of work are you interested in and how far are you willing travel for work? -if possible, keep your options open and be realistic:
[ ] Startup/Small Business
[ ] Medium-sized Business
[ ] Large Business
[ ] Software as a Service
[ ] Internal Development Department
[ ] Travel 20-30 miles
[ ] Travel 40-60 miles
[ ] Willing to move to another city
[ ] Willing to move to another state
[ ] Web Developer
[ ] Quality Assurance Engineer
[ ] Business Analyst
[ ] Full Time
[ ] Part Time
[ ] Contract
[ ] Self-Employment
The options you select will help you identify your goal in terms of the kind of job you want.
Ok, now take a moment to review your choices.
Maybe you were very specific or maybe you're open to anything. Either way, now we know what exactly we're going to be looking for. Perhaps you only care about finding work in Florida as a Web Developer, or maybe you're open to anywhere in the U.S. it just has to be part-time.
With this information and our prepared resume, LinkedIn, portfolio, etc., we're ready to start our search, the next step is just creating a plan for how we'll do just that.
Creating a plan
"A goal without a plan is just a wish" - Antoine de Saint-Exupéry
Having a plan will help you to measure your progress in terms of whether or not you stay on track -and guess what? I completely expect you to get off track! But when you do, you can hop right back into it by taking a look at your plan and picking up where you left off.
Using the recommendations from the chart below, plan out when you will complete each step in this Job Search Plan over the next 1-2 weeks by hour, day, etc. whatever works best for you.

I would physically write down your plan too. Science says you're 42% more likely to achieve your goals if you write them down.
Job Search Plan Recommendations:
Try to spend at least 2 hours a day on your job search (ideally 4-6 hours), and 1-2 hours a day on coding (ideally 2-4 hours).
Example:
When will you apply to jobs and which jobs?
What meetups and job fairs will you go to?
What kinds of coding practice are you going to do?
When will you follow up on applications?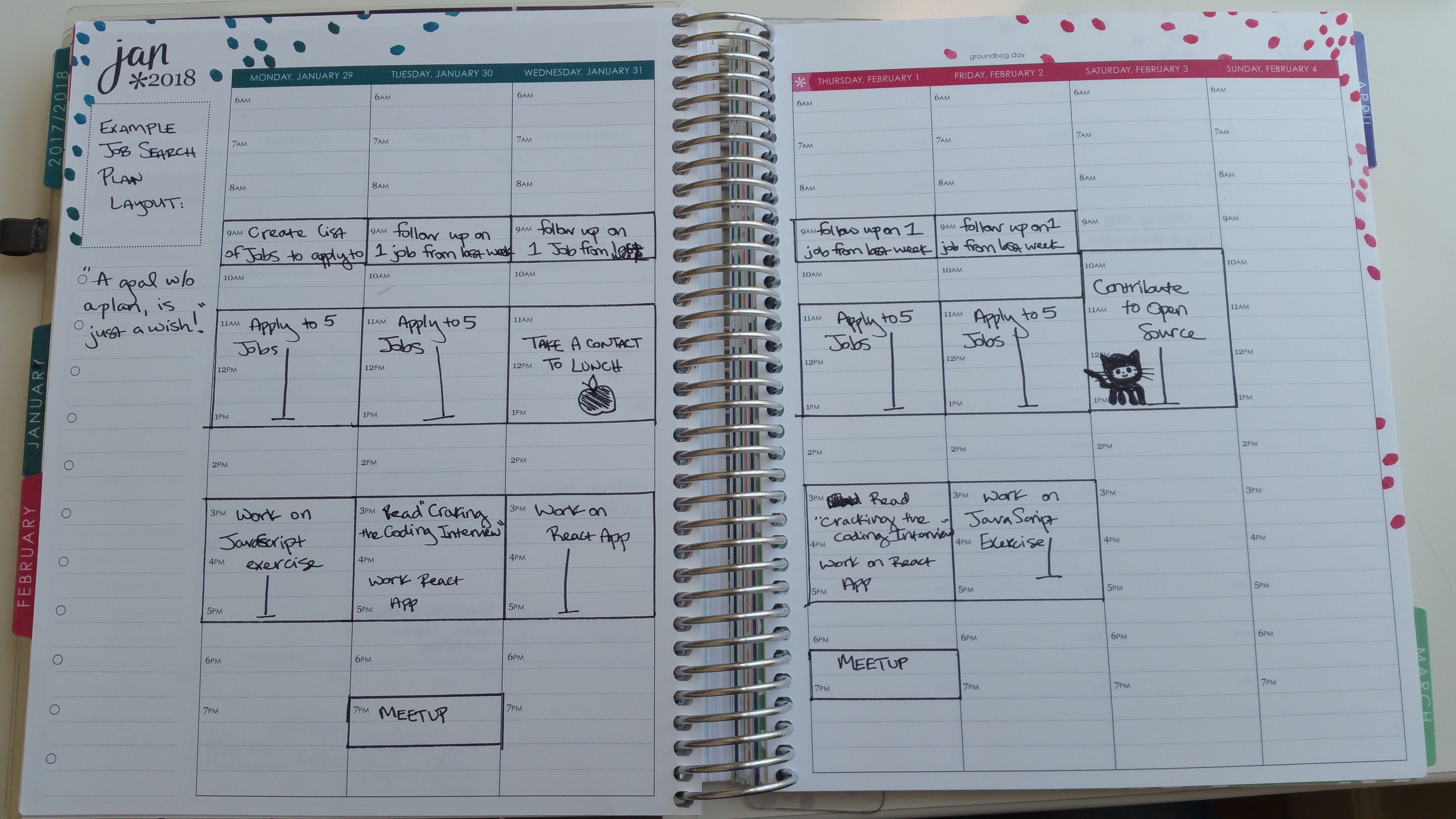 On-going: Regularly review all steps and make changes accordingly. Maybe a certain coding practice exercise isn't working for you. Maybe you've set your goals too high, too low, etc. Make changes and move forward.
Below we'll go deeper into accomplishing the recommendations in the above job search plan example.
Create a Weekly List of Jobs to Apply For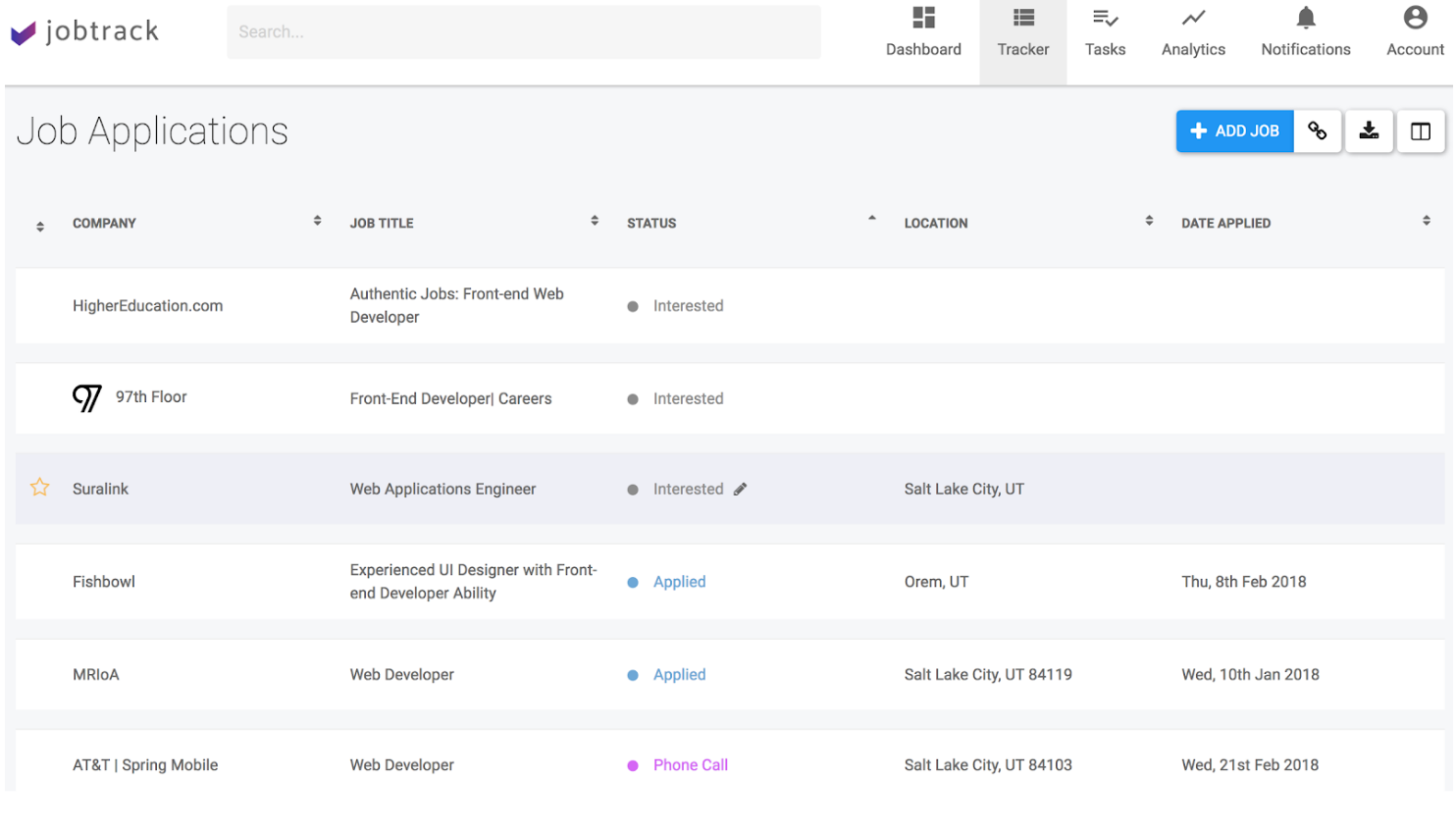 Using the JobTrack.io Chrome extension, and the free JobTrack.io app, create a list of 20-30 jobs you'd like to apply for this week.
Set a time of day(s) during the week when you will apply to each job and add it to your timeline.
When you do apply for each job, make sure you optimize your resume and cover letter for each jobposting's keywords using JobScan.co or sending a copy of both to your V School Career Advisor for a free report. You can learn more about how to use JobScan in the post JobScan.co - Free tool for getting past Applicant Tracking Systems.
Keep a record of when you apply in your JobTrack.io account and record all telephone contacts with dates, numbers, times and outcomes so you can track your efforts and organize your follow-up.
Calendar of Meetups + Job Fairs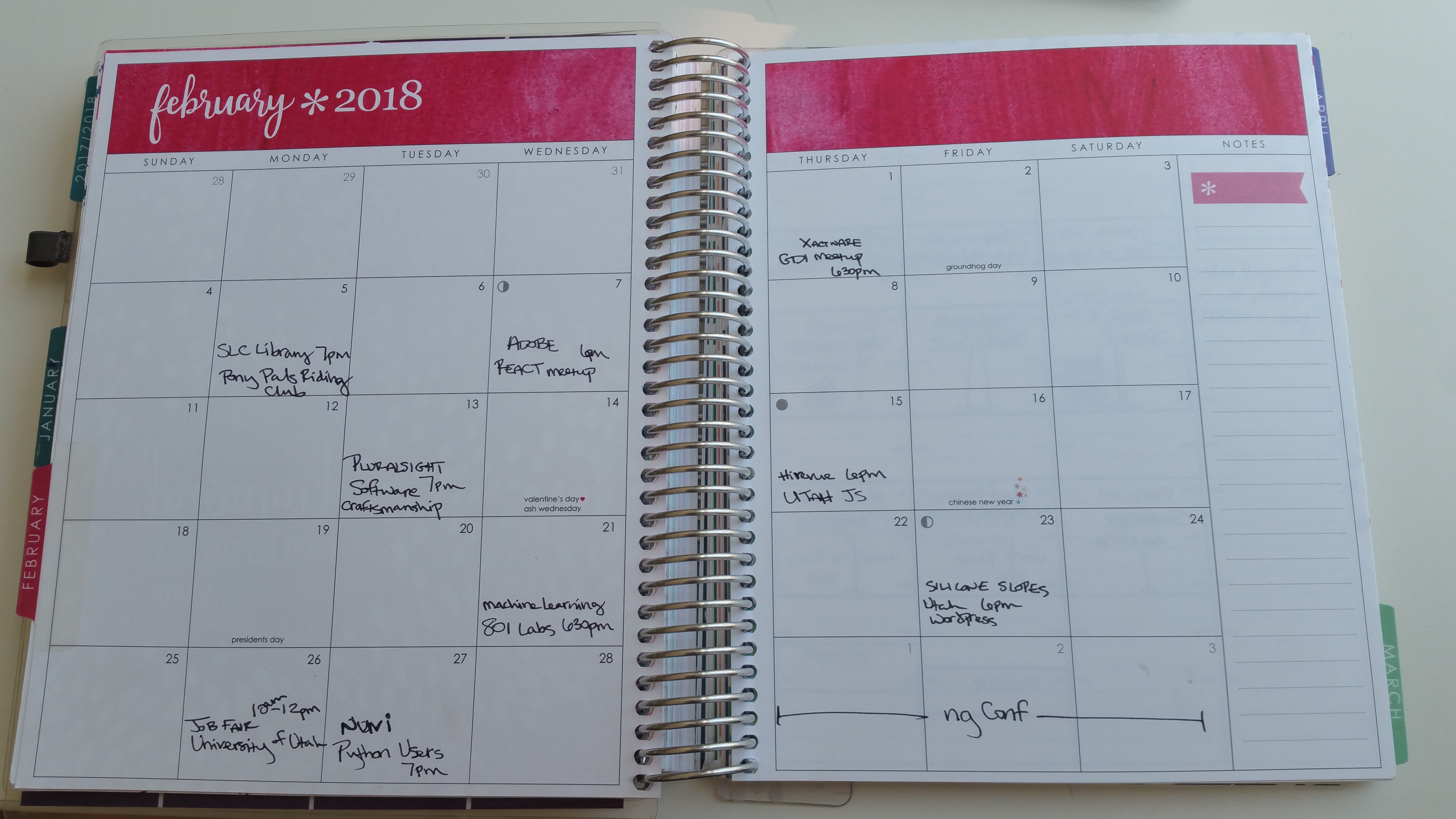 Using Meetup.com, NationalCareerFairs.com, and JobTrack.io, create a list of meetups and job fairs for the next 2 months that you'd like to attend.
Schedule a task in JobTrack.io for the day you'll be attending each event and which one you're going to.
Track the meetups and fairs you attend so you can view your progress.
Record the people you meet and/or what you learned about upcoming jobs, in JobTrack.io to help with your search.
You can find links to all local, Utah meetups, slack teams and conferences in the post Networking: Utah Tech Meetups, Slack Teams + Conferences.
Coding Practice
Pick 1 or 2 projects to be working on over the next week.
Use the list below to come up with ideas:
Pick a site/tool to use for practicing coding challenges to help you prepare for technical challenges using the examples below:
Check out Free Code Camp's Interview Prep curriculum too here. It includes topics on algorithms, data structures and more: https://learn.freecodecamp.org/
Follow Up on Job Applications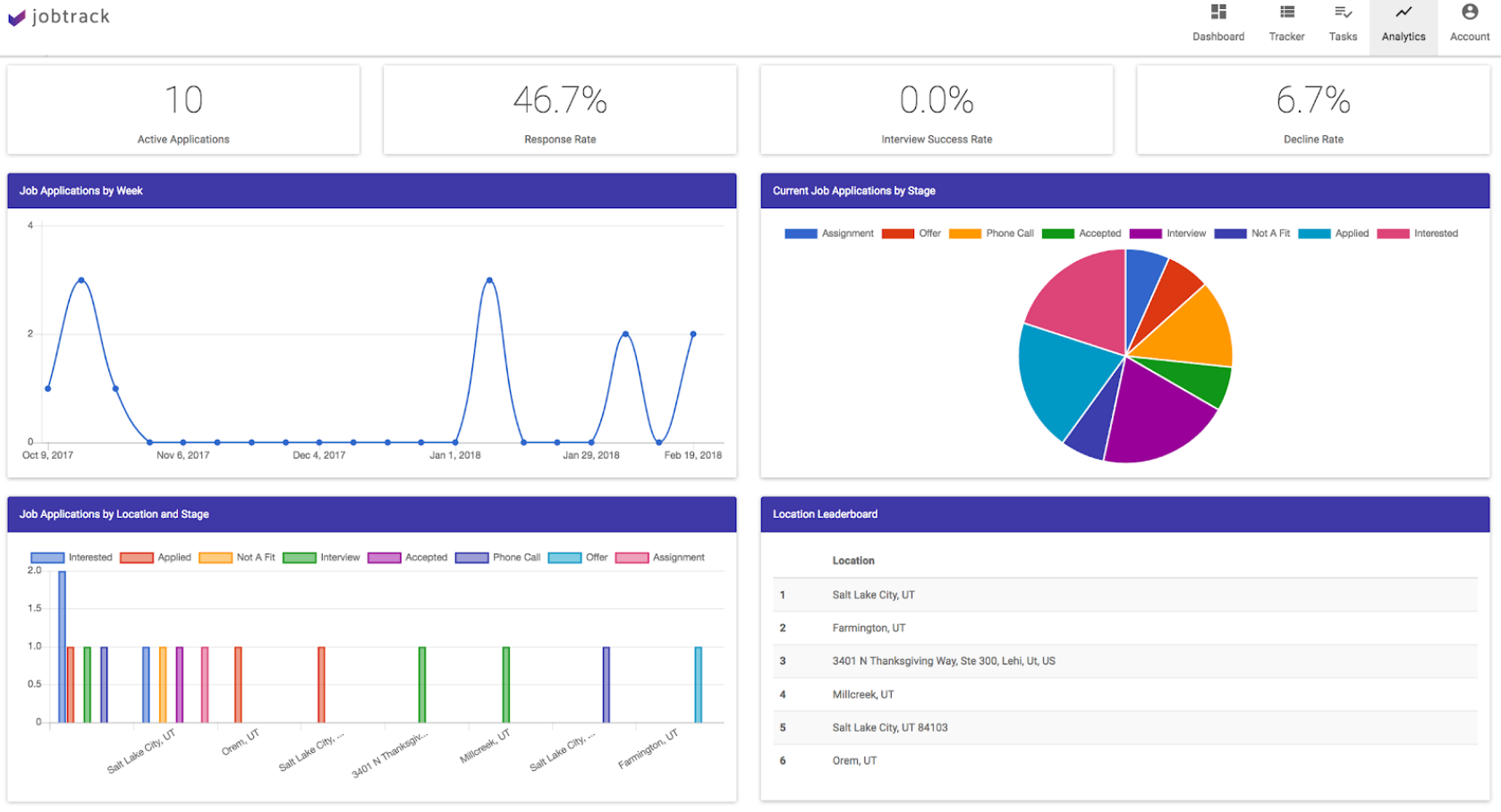 Using the information you are recording in JobTrack.io, schedule tasks for following up on applications and interview results.
Record when you follow up and when you plan to follow up next, using tasks in JobTrack.io.
The more you track in JobTrack.io, the more accurate your personal job search analytics will be. You can use these analytics to keep yourself going and further improve your search.
Now that we've gone through all the steps and created our timeline for the next few weeks, don't forget to take time to review it in the future and make changes as necessary.
Using a physical planner, google calendar or even setting alarms to remind yourself of tasks can make a big difference. If one method doesn't work for you, try something new!
Most important of all, you are going to get off track and when you do, dust yourself off and get back to it by reviewing your plan!
Never Stop Applying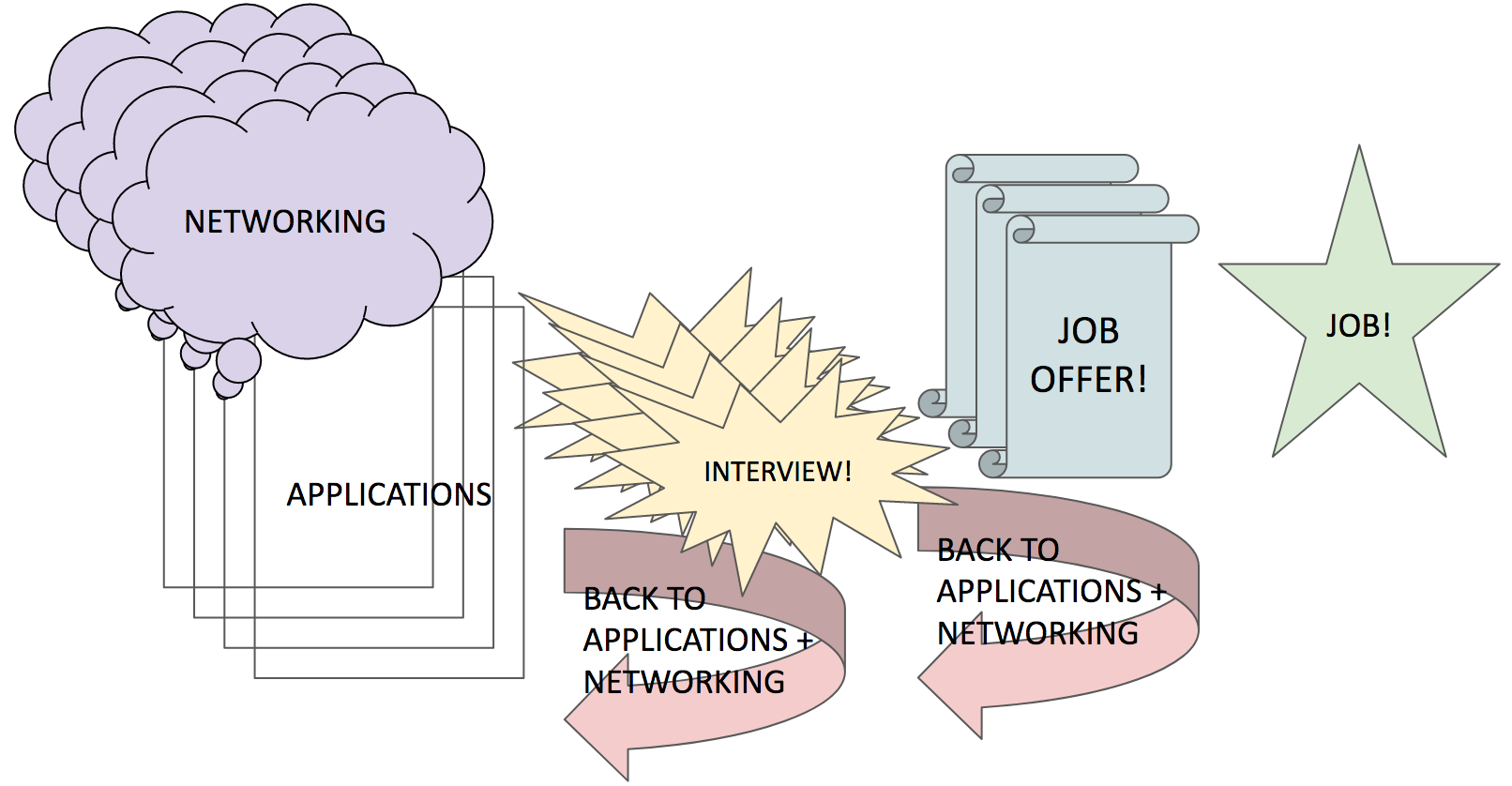 Now that we've established a job search plan of action my final advice would be to never stop applying for jobs and never stop networking either. I don't care how many interviews you have setup, or whether you're on your 2nd or 3rd interview with your dream company, it will always be in your best interest to have more interviews and potential job offers lined up on the side and this only happens if you keep applying to jobs.
I can't tell you how many times I've worked with a student through even 3 rounds of interviews, only to learn there was one other person with a better personality fit and/or one extra skill who won the job in the end. Getting news like this is frustrating alone, now imagine getting this news with 0 job interviews and/or offers to fall back on all because you stopped applying for other jobs in the mean time.
Keep your job search pace up by never stopping.
---
This post is part of series on job search best practices. Check out the following posts below for more job searching tips: