With only 6 seconds of view time, you want to make sure your resume focuses on the most relevant information that describes why you're the right fit for the job.
Use the checklist of questions below to review each section of your current resume. If the answer to a question is "No", update that section accordingly. If a section doesn't exist in your resume, get it on there asap.
Resume Checklist:
Please complete this checklist exercise before submitting your resume for review.
Contact Information:
[ ] Is my name listed?
[ ] Is my Github ID listed?
[ ] Is my portfolio site URL listed?
[ ] Are my phone number and email listed?
If you live far from the job you're applying to, I'd recommend dropping your address from your resume as some companies won't call simply because you live too far.
[ ] If a job title is listed, is it for the type of position I'm applying for?
Check out this JobScan post to learn more about why you'd include the job title on your resume
Objective:
[ ] If using one, does my Objective statement include a summary of my applicable background skills and my intent to be a web developer?
[ ] If a job title is included, is it for the type of position I'm applying for?
Objectives aren't required and I don't recommend using one unless you know how to write them well. To learn more about how to effectively use and write an Objective check out:
How To Write A Killer Resume Objective (Examples Included)
How To Write An Amazing Resume Summary Statement (Examples Included)
Skills:
[ ] Are all of my technical skills listed?: JavaScript, React...
Don't include any unrelated past skills/certifications like a commercial drivers license, etc. it just wastes space
Web Development Work:
[ ] Have I included at least 2 web development projects with descriptions including:
project title
how the project works: i.e. what the user can do
all the technology used to build the project
[ ] Have I deployed all of my projects and included a link to each of them?
Professional Experience:
[ ] Is all of my included work experience only within the last 10 years?
Most experience that was 10+ years ago is now outdated, this will also protect you from being discriminated against based on your perceived age
[ ] Do my job descriptions start with an accomplishment and then the action?
e.g. Increased clientele by 25% through networking and email marketing
e.g. 21% GROWTH: Grew Occupational Health Network from 1400 to 1700 employers over 2 years
[ ] Have I quantified my work experience and accomplishments using measurable results to back up my claims?
Numbers
Percentages
Metrics
Quantifiable statistics that are time-bound, measurable, relevant and specific
[ ] Are my claims specific accomplishments that hiring managers are interested in?
e.g. Trained 6 new employees a week through workshops and practice tests vs Wrote reports, answered phones, gave directions
[ ] Are my job accomplishments bulleted instead of written in paragraphs so that they are easy to scan/read at a glance?
[ ] Are my job accomplishments relevant to web development or the job I want?
[ ] Do I have no more than 4 bullets per job?
Education:
[ ] If I haven't or aren't currently studying IT/Computer Science in college, is my Education listed at the end of my resume?
Final Formatting & Review:
[ ] Is my resume formatted to fit on 1 page? OR if it has to be more than one page, is the most relevant information all on that first page?
[ ] Is the content in my resume easy to scan at a glance or is it a lot of paragraphs and text blocks?
[ ] Are there no fluffy phrases or unsupported statements like:
Team Player
Fast learner – able to grasp new ideas, concepts & technologies
Thrive in high-stress environments
Innovative & Results Driven
[ ] Has someone looked over my grammar and spelling?
Example Resume: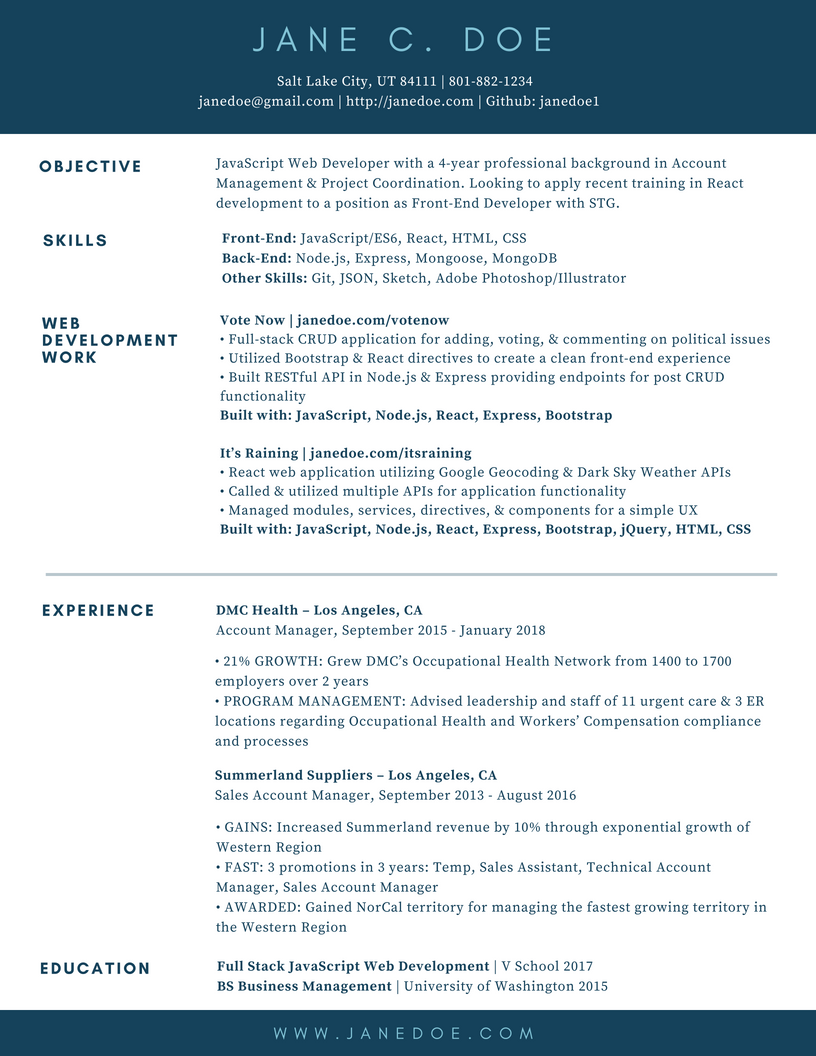 Resume Template Resources
Collection of Microsoft Word Resume Templates
Canva.com - A lot of these resume template designs incorporate personal profile pictures. I recommend not using profile pictures as they are distracting and can lead to unintended discrimination based on your appearance. We want them making decisions based on your experience and ability not the way you look or seem.